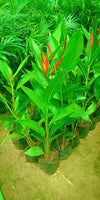 Heliconia psittacorum (Golden Torch) Live plant Heliconia psittacorum Live Plant
Golden Tourch flower plant, Packet Contains : 1 Live Plant
Light
Heliconia thrives in the same conditions as bananas and bird-of-paradise plants. They can tolerate light conditions from dappled shade to full sunlight; full sun can be especially useful in northerly latitudes. When grown as houseplants, give the brightest indirect light you can.
The short days of northern climates can be a problem for indoor Heliconia plants, and you may find it necessary to add a supplemental light source to provide illumination for at least 8 to 10 hours per day.
Soil
A rich, peat-based potting soil with excellent drainage is beneficial for potted plants. A mixture of wood-based compost and peat moss makes an ideal DIY potting soil. Plants grown outdoors in the garden will thrive in a rich, moist, but very well-draining garden soil. These plants can easily develop root rot in soil that is too wet.
Water
All species of Heliconia require ample and continuous water to thrive, but with good drainage. Plants subjected to drought will experience leaf-browning, especially along the leaf margins. To protect your plant during the winter, use tepid water during watering. Make sure the soil dries out almost fully between watering, but then water immediately. Proper watering is the single most important element of growing these plants successfully.
Temperature and Humidity
Heliconia plants are native to tropical forests, so they prefer warm and fairly humid conditions. Temperatures of 70 degrees Fahrenheit and above are ideal. Although the plants often survive a short, mild frost, generally speaking, it's best to protect them against temps below 50 degrees, which can send the plant into a semi-dormant state.
In the dry winters of northern climates, indoor plants will require regular misting to keep the leaves from drying out. Brown tips and margins on leaves are signs the plants need moister air.
Fertilizer
Feed with a weak liquid fertilizer every couple of weeks throughout the growing season. Cut Fertilizer back to once a month or so in the winter.
WE SHIPPING
All Over India.
100% Product
Satisfaction
24 x 7 Support
We support 24 Hours 7 days.