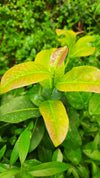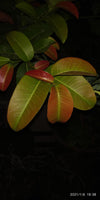 Ficus Lipstick Live Bonsai Tree With PLastic Bonsai Pot PIlkhan Ficus Bonsai tree
Ficus Lipstick Live Bonsai Tree
The Bonsai Lipstick Ficus Is one of the Exclusive Artists Choice Bonsai Species .
Beautiful colorful reddish new leaves give An Amazing Look.
The lipstick Ficus plant is generally considered a relatively easy-to-care-for houseplant. Rare Ficus With Very Beautiful Leaves .
Easy Growing With Perfect lighting and moisture levels.
The Bonsai  lipstick plant will benefit from being grown in a medium that is well-aerated, evenly moist, and light.
Fertilizer Your lipstick Ficus Bonsai plant will appreciate regular applications of a slow-release fertilizer during the growing season. Color Of leaves on Lipstick

 

Ficus

 

Plants Given the lipstick plants' popularity.
This Species Is Very Popular For Bonsai Cultivation.
Best Choice Bonsai  Plant For Bonsai beginners.
Lipstick Ficus Has Very attractive foliage and Beautiful bark features.
WE SHIPPING
All Over India.
100% Product
Satisfaction
24 x 7 Support
We support 24 Hours 7 days.