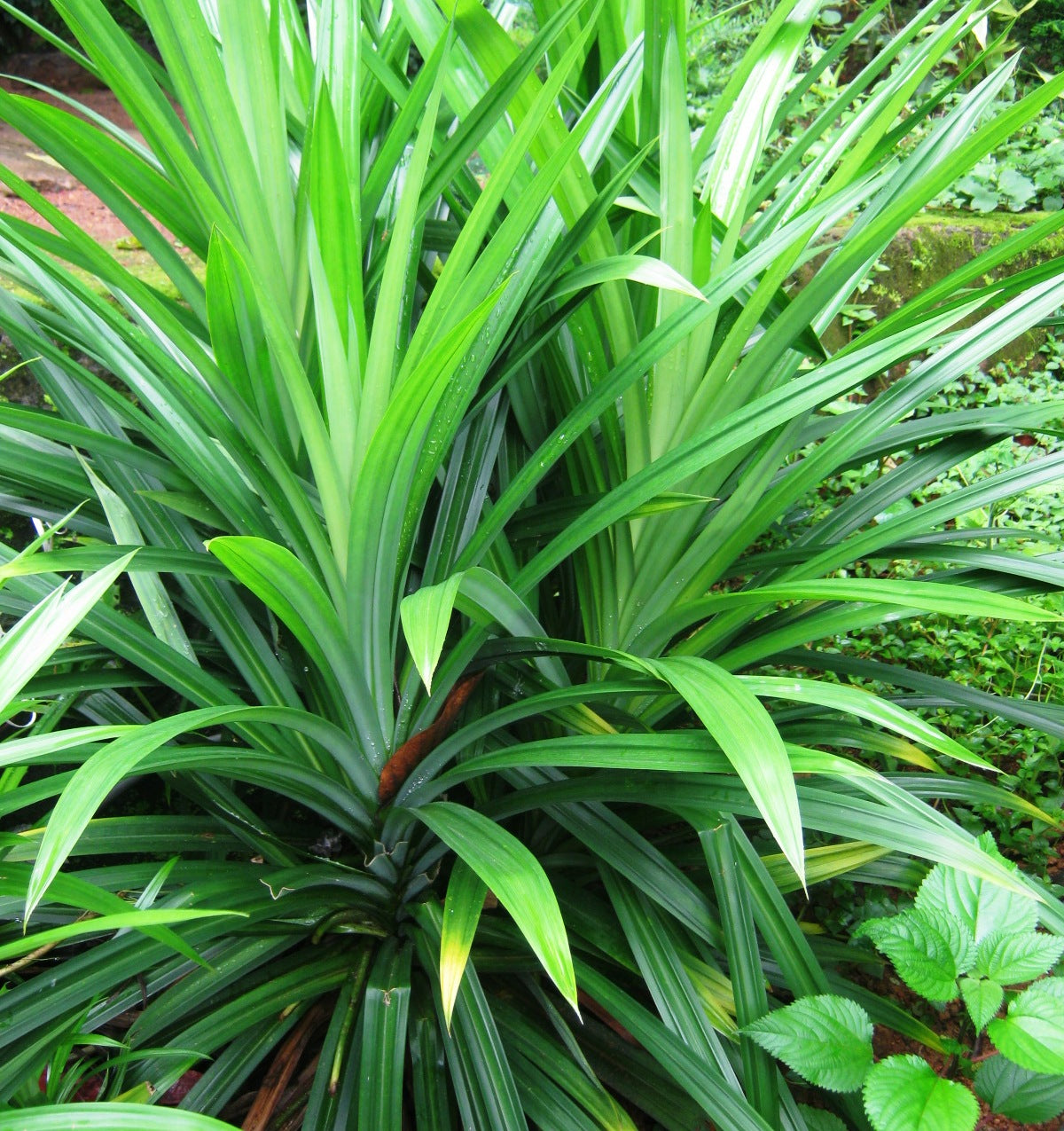 Pandanus Amaryllifolius Plant Pandan Plant Rambha Plant Biryani Leaves Plant Basmati Plant
Ask about this product
Unveiling the Enigmatic World of
Pandanus Amaryllifolius: The Fragrant
Greenery of Asia
In the lush and diverse tapestry of the plant kingdom, Pandanus Amaryllifolius stands as a remarkable botanical gem, treasured not only for its ornamental beauty but also for its culinary and medicinal significance. Popularly known as the Pandan plant or Screw Pine, this aromatic wonder has captured the hearts and senses of people across Asia and beyond. Join us on a journey through the enchanting world of Pandanus Amaryllifolius, where its fragrant leaves and cultural importance take center stage.
Before delving into the cultivation process, let's get better acquainted with this remarkable plant. Pandanus Amaryllifolius, native to Southeast Asia, is a perennial herbaceous shrub belonging to the Pandanaceae family. It is treasured for its long, narrow, bright green leaves and a distinctive sweet fragrance that has earned it the nickname "Vanilla of the East."

The Pandan plant's leaves are an essential ingredient in various Asian cuisines, especially in countries like Thailand, Indonesia, Malaysia, and the Philippines. They are used to flavor rice, desserts, beverages, and even savory dishes. Beyond its culinary uses, Pandanus Amaryllifolius also holds cultural significance and is believed to have medicinal properties.


The Botanical Marvel: Pandanus Amaryllifolius
Appearance and Habitat
Pandanus Amaryllifolius is a tropical plant belonging to the Pandanaceae family.
Native to Southeast Asia, particularly Thailand, Malaysia, and Indonesia, it has also found a home in the Philippines, Sri Lanka, and parts of northern Australia.
Its distinctive appearance immediately sets it apart.
With long, slender leaves that can reach up to 2 meters in length, this plant resembles a spiky, green pineapple, earning it the common moniker "Screw Pine."
Its unique appearance adds an exotic touch to any garden or landscape.


Distinctive Aroma
What truly distinguishes Pandanus Amaryllifolius is its captivating fragrance.
The leaves of this plant exude a sweet, nutty, and floral scent, often likened to a blend of vanilla and jasmine.
This delightful aroma has earned it the nickname "Vanilla of the East."
Pandan leaves are used to infuse a unique flavor and fragrance into various culinary delights, ranging from rice and desserts to beverages and curries.
Its culinary applications have made it an indispensable ingredient in the cuisines of many Asian countries.


Cultural Significance: Pandanus Amaryllifolius in Asia
In the Kitchen
Pandan leaves are a beloved ingredient in many Asian kitchens, especially in countries like Thailand, Indonesia, and Malaysia.
In these culinary traditions, Pandanus Amaryllifolius is often used to flavor and color rice, creating the famous green-hued Pandan rice.
Additionally, it is used to enhance the aroma and taste of sweets and desserts, like Pandan chiffon cake and Kuih Talam.


Medicinal and Therapeutic Uses
Beyond its culinary applications, Pandanus Amaryllifolius possesses medicinal properties that have been harnessed for centuries in traditional Asian medicine.
The plant is believed to have antimicrobial, anti-inflammatory, and antioxidant properties.
Pandan leaves are used to make herbal teas, tinctures, and ointments to treat various ailments, including pain, fever, and digestive issues.
While more research is needed to confirm these benefits, the plant's long history of use in traditional medicine speaks to its potential.
Religious and Cultural Symbolism
In addition to its practical applications, Pandanus Amaryllifolius holds deep cultural and religious significance in many Asian communities.
In Hindu and Buddhist ceremonies, Pandan leaves are used as offerings and decorations.
They are often woven into intricate shapes or garlands, symbolizing purity and prosperity.
Growing Pandanus Amaryllifolius: A Delight for Gardening Enthusiasts
If you're intrigued by the allure of Pandanus Amaryllifolius and wish to cultivate it in your own garden, there are some key considerations to keep in mind.
This plant thrives in tropical climates with high humidity and well-draining soil.
It requires ample sunlight and regular watering to flourish.
While it can be challenging to grow in non-native regions, dedicated gardening enthusiasts often find ways to create suitable microclimates for this unique species.
Unveiling the Secrets of Cultivating Pandanus
Amaryllifolius: A Green Thumb's Guide
Pandanus Amaryllifolius, commonly known as the Pandan plant, is a fascinating addition to any garden or indoor space. Renowned for its unique aroma and versatile culinary applications, this tropical wonder has gained popularity worldwide. In this comprehensive guide, we will explore the art of cultivating Pandanus Amaryllifolius, unlocking the secrets to nurturing this aromatic delight in your own home.




Cultivation Essentials:
Climate and Location:

Pandanus Amaryllifolius thrives in tropical and subtropical climates. It requires warmth and humidity to flourish. If you're growing it outdoors, choose a location that receives partial shade, protecting it from direct sunlight during the hottest parts of the day.



Soil:

Well-draining, sandy soil with good organic content is ideal for Pandan plants. It's crucial to maintain soil moisture without letting it become waterlogged.



Propagation:

Pandan plants are typically propagated from stem cuttings. Select a healthy, mature plant, and take a cutting with at least a few inches of stem. Plant this cutting in a pot filled with suitable soil, and keep it moist.



Watering:

Pandan plants appreciate consistent moisture, so water them regularly. Still, be conservative not to overwater, as they're susceptible to root spoilage. The soil should be unevenly wettish but not soppy.



Fertilization:

Fertilize your Pandan plant every 2-3 months during the growing season (spring and summer) with a balanced, slow-release fertilizer. Avoid excessive nitrogen, as it can lead to excessive leaf growth at the expense of flavor.



Maintenance and Pruning:
Pruning:

Regularly trim the plant to encourage bushier growth. Prune away any yellowing or dead leaves to keep the plant healthy and visually appealing.



Pest and Disease Management:
Common pests such as aphids and mealybugs should be avoided.
If infestations occur, treat them promptly with organic remedies to avoid harming the plant's culinary potential.


Harvesting:
You can start harvesting leaves once the plant reaches a sufficient size, usually after about 6-8 months.
Harvest the older leaves, as they tend to have a stronger aroma and flavor.
Use a sharp knife or scissors to cut the leaves, and avoid damaging the plant's central growth point.